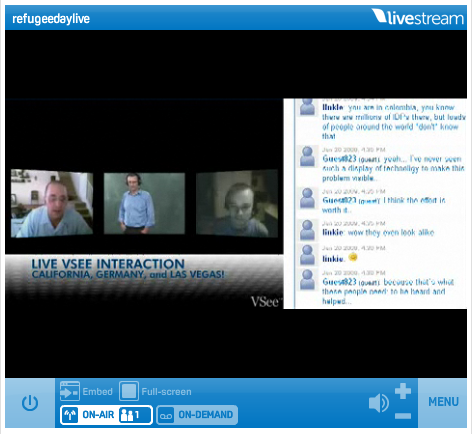 About World Refugee Day 2010
To mark this year's World Refugee Day on June 20, UNHCR is setting up a live video link to talk to refugees in Kuala Lumpur and Damascus about their experiences as urban refugees.
Join the conversation: If you are interested in refugee issues, this is your chance to learn more and to show your support.
Many people still think of refugees as living in sprawling tented camps in rural areas. The reality is that, today, more than half of the 10.5 million refugees of concern to UNHCR live in towns and cities across the globe.
Schedule
June 16, 2010, Wednesday
8:30 AM EDT / 12:30 PM GMT
Live online interview with Susan, a Chin refugee and humanitarian worker in Kuala Lumpur.
June 18, 2010, Friday
10:00 AM EDT / 2:00 PM GMT
Live feed between High Commissioner, António Guterres, in Damascus, Syria, and an audience in Washington, D.C.
Part of a commemorative event in the United States capital.
June 20, 2010, Sunday
6:00 AM EDT / 10:00 AM GMT
Press conference with the High Commissioner and outreach workers broadcast live.
In addition, the High Commissioner will address an audience at the UN pavilion at the World Expo in Shanghai, China.
Sponsors:


Visit UNHCRs website for more info »