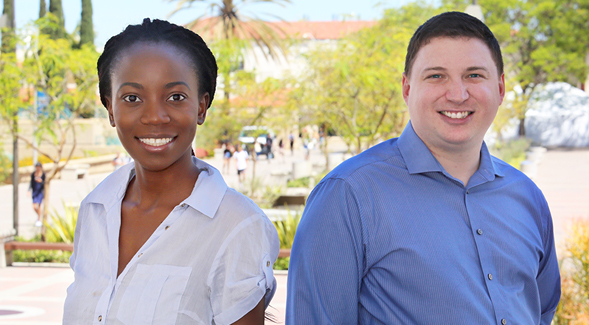 Friday, May 25, 2018
The awards will support two students in study abroad and language immersion in Indonesia and Jordan.
Two San Diego State University students have received the David L. Boren Scholarship and Fellowship, continuing SDSU's recent success in the competition for this prestigious international award.
International security and conflict resolution (ISCOR) junior Sela Zalwango received a Boren Scholarship to study Arabic and Middle Eastern studies in Jordan this summer and fall semester. Homeland security graduate student Mike Verrier received a Boren Fellowship to study disaster management in Indonesia during the 2018-19 academic year.
An initiative of the National Security Education Program, the Boren Awards support study abroad and critical language immersion in regions vital to U.S. interests. Awards offer students $8,000 for summer programs, $10,000 for a full semester and $20,000 for programs of six to 12 months.
"Receiving the Boren is absolutely life-changing," said Verrier, who will be studying in the cities of Malang and Yogyakarta on the island of Java.
The Boren Awards are highly competitive—221 scholarships and 120 fellowships awarded nationally this year—but this marks the second time in three years SDSU has had multiple recipients. Ryan McLemore, an adviser at the SDSU Study Abroad Office, said the study abroad requirement in SDSU's ISCOR, international business and homeland security programs prepare students to compete for and win awards like the Boren Scholarship and Fellowship.
"Many of the students in these majors are already quite interested in going off the beaten path in terms of geographic destinations," McLemore said. "They tend to have serious interests or requirements in foreign languages and—equally important for the Boren Awards—a commitment to public service."
SDSU ranked No. 8 in the nation in study abroad according to the most recent Institute for International Education Open Doors report, and a record 3,039 SDSU students had an international experience in 2016-17.
Life-changing opportunity
Verrier's path to becoming a Boren Fellow started when he fell in love with Indonesia as an SDSU undergraduate. During a study abroad program in 2011, the then-geology major conducted research into deadly landslides in rural villages—research he later continued while pursuing a master's degree in geological sciences.
These experiences and his service as a Red Cross volunteer altered the Bakersfield native's career focus.
"Before I was studying landslides more from the scientific side—mitigation, preparedness and avoidance," Verrier said. "But disaster management also has a strong social aspect to it. You're often working with people on the worst days of their lives. After joining the Red Cross, I found that I was working with homeland security professionals in my local area very often."
Verrier decided to pursue a second master's at SDSU—this time in homeland security—with the goal of pursuing a Boren Fellowship. With the support of Eric Frost, director of the homeland security graduate program, that part of the plan came to fruition.
"I'm hoping I can continue what I started and learn how to speak Indonesian in an advanced capacity," Verrier said. "Indonesia is also one of the most geologically active places in the world. It's not a matter of if disasters will happen. I'm excited to go over there to work with them in emergency management."
A very big difference
Zalwango became an ISCOR major because she aspires to a meaningful career in the diplomatic foreign service—particularly in the Middle East.
"I like the idea of making a difference on a global scale," she said.
A native of Uganda who moved to Boston when she was 10, Zalwango already speaks fluent Luganda, English and Spanish. Given her interest in the Middle East, Arabic was the natural choice when she thought about learning a fourth language.
Zalwango will head to Amman, Jordan in early June where she will spend two months living with a host family and taking an intensive Arabic language program. After a month back in the United States, she'll return to Jordan in September to take a semester of Middle Eastern studies-focused classes.
"I was going to be going for fall semester anyway," Zalwango said. "But with the Boren, I was able to do a summer program on top of it, and I won't have to pay quite as much out of pocket. It made a very big difference."
To learn how to apply for the Boren Awards or other study abroad scholarships, visit the Aztecs Abroad website.
Original article at http://newscenter.sdsu.edu/sdsu_newscenter/news_story.aspx?sid=77242