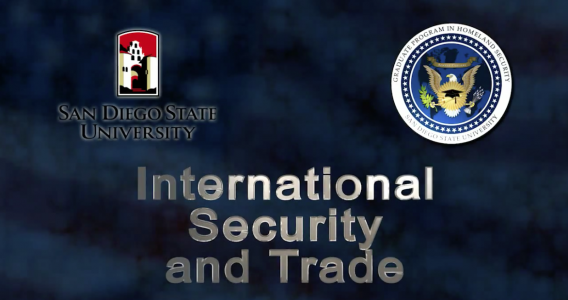 The Advanced Professional Certificate Program in International Security and Trade will Launch on June 15, 2015. Registration opens up on May 18, 2015.
About International Security and Trade:
Trade across the border between the US and Mexico can be a positive driving force to increase security for both nations besides increasing trade revenues and jobs along the border. Building a "wall of jobs" can be accomplished by making the border a powerful economic asset. By linking new technologies and new regulations to assist trade, a valuable secondary product is increased security. By being able to move trade across the border more quickly and effectively using numerous new technologies including smartphones and sensor networks. By utilizing a combination of shared technologies, the Internet, sensors, and new regulations it is possible to dramatically increase the speed of traffic across the border. This is a vision championed by numerous people such as Assistant Secretary of DHS for International Affairs, Mr. Alan Bersin. His seminal paper entitled "Lines and Flows: The Beginning and End of Borders" summarizes the vision for this new program and provides an intellectual framework for building Borders 2.0 in the context of a Homeland Security 2.0 where commerce and security are integrally and positively linked together.
The SDSU program has been developed over several years with many conversations and interactions with Federal agencies such as CBP who are charged with the security of the border but are also deeply involved in the trade across the border. Positively linking these two activities by using large volumes of critical data can improve the trade but also provide a wonderful by-product of improved security. How this can be done from an overview to the Law Enforcement aspect of shared information and workflows to the role of Cybersecurity and the impact of natural disasters on the border form the first of three Certificate Programs. The Certificate Programs can be taken without being formally admitted to the SDSU Graduate Program, so that people without an Undergraduate degree can also take them. Students wanting to sign up for the online Master's Program would take the same classes but register in a slightly different way so that the Stacked Certificate Programs built into a Master's degree.
One aspect of the SDSU program will be to help develop appropriate collaboration between trade and security groups on both sides of the border. By providing appropriate linkages and means of collaboration, this program will hopefully become part of the actual solution to cross-border trade and security, not just teaching about it. As we work on the border almost every day, we are also students of the border and of other people's solutions—so this is a program that will be learning and growing from the special participants and helping to invent the Border 2.0 with Trade and Security as mutually benefiting twins.
San Diego State University Advanced Development Certificate in International Security and Trade
Website: http://ist.sdsu.edu