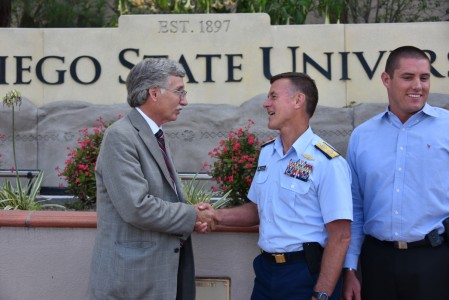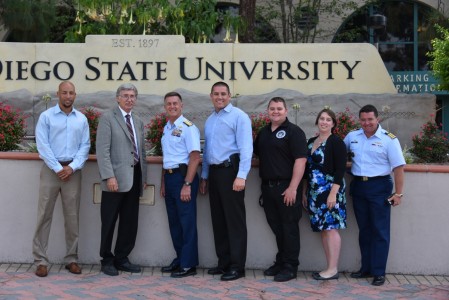 Admiral Paul Zukunft assumed the duties of the 25th Commandant of the U.S. Coast Guard on May 30, 2014. He leads the largest component of the Department of Homeland Security, composed of 88,000 personnel including active duty, reserve, civilian, and volunteer Auxiliarists.
We presented him with the current research conducted with the VizCenter@SDSU and the Graduate Program in Homeland Security. We also shared with him a recently awarded grant that allows for the building of a Panga Interdiction Prediction Model for the USCG.
The Commandant of the United States Coast Guard is the service chief and highest-ranking member of the U.S. Coast Guard. The Commandant is an admiral, appointed for a four-year term by the President of the United States upon confirmation by the United States Senate. The Commandant is assisted by a Vice Commandant, two Area Commanders (U.S. Coast Guard Pacific Area and U.S. Coast Guard Atlantic Area), and two Deputy Commandants (Deputy Commandant for Operations and Deputy Commandant for Mission Support), all of whom are vice admirals.
The Commandant is also the only service chief who maintains operational command over their service. The Commandant reports to the President, via the Secretary of Homeland Security.
Dr. Lance Larson, Assistant Director of the Graduate Program in Homeland Security at SDSU commented; "We are very excited to partner with several agencies under the DHS umbrella, including the U.S. Coast Guard."