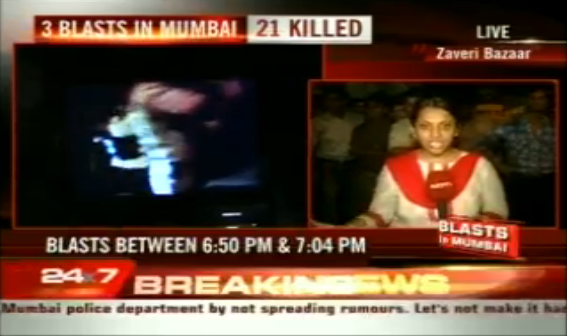 By Jui Chakravorty and Rajendra Jadhav
(Reuters) – Three bombs rocked crowded districts of Mumbai during rush hour on Wednesday, killing at least 20 people in the biggest militant attack on India's financial capital since 2008 assaults blamed on Pakistan-based militants.
India has remained jittery about the threat of militant strikes, especially since the November 2008 attacks which killed 166 people and raised tensions with nuclear-armed arch rival Pakistan.
At least 100 people were wounded on Wednesday and preliminary reports showed the death toll had risen to 20 in the "terror attacks" centered mainly on Mumbai's jewelry trading trading centers, Umesh Sarangi, a senior government official, told Reuters
"This is another attack on the heart of India, heart of Mumbai. We will fully meet challenge, we are much better prepared than 26/11," Prithviraj Chavan, the state's chief minister, told NDTV broadcaster, referring to the 2008 attacks.
Home Minister Palaniappan Chidambaram also said "terrorists" were to blame.
"The blast occurred at about 6.45 pm (1315 GMT) within minutes of each other. Therefore, we infer that this was a coordinated attack by terrorists," Chidambaram told reporters.
At least one car and a motorbike were used in the coordinated attacks believed to have used improvised explosive devices, officials said.
"This tactic is much more in line with those used by more amateurish groups such as the Indian Mujahideen who have targeted crowded urban areas before," Stratfor, a strategic affair think tank, said in a statement.
Television images showed blaring ambulances carrying away the bloodied people at one of the attack sites. Other images showed bodies lying among glass and metal debris in narrow streets.
At the Dadar area in central Mumbai, one of the explosions left car windows shattered and uprooted electric poles. Police used sniffer dogs to look for clues while the public helped paramedics carry away some of the injured.