Rain and wind did not stop the celebration of the San Diego State University Graduate Program in Homeland Security annual graduation ceremony at the USS Midway. The 14th graduating class commemorated their special day inside the ship in a warmer space on Sunday, 19 May 2019. Lance Larson, Co-Director of the SDSU HSEC Graduate Program, welcomed the 50+ student graduating Class of 2019 and their respective families.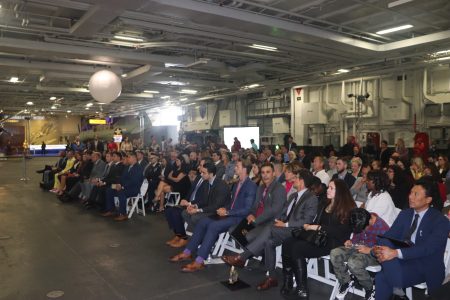 Following the Pledge of Allegiance and the Presentation of the Colors, Dr. Larson took the opportunity to introduce the SDSU Graduate Program in Homeland Security to those who attended this significant milestone. Attendees were able to get a clearer understanding of the devotion needed to complete this rewarding and meaningful graduate program. Dean Jeff T. Roberts Ph.D. of the SDSU College of Sciences continued the ceremony by describing the notable contribution that the SDSU HSEC Graduate programs bring at the local, regional, national and international levels. Special guest Dr. Cathie Atkins, Associate Dean for Academic and Faculty Affairs, proceeded by welcoming and congratulating the determination of the graduates, all of whom were eager to receive their diplomas.
Dale A. Ferranto, Captain, USNR (ret.) stepped to the podium to deliver his introductory keynote. "Like this great warship we are aboard today, dare to go in harm's way when necessary to preserve the blessings that we sometimes take for granted."
HSEC Graduates had the privilege to listen and take advice from Visionary Keynote speaker, Mr. Glenn Haddox, Director of Cybersecurity and Compliance at Southern California Edison (CISO). Mr. Haddox spoke of his extensive experience in management and leadership roles as an example to motivate the graduating class towards pursuing their future endeavors.
The hard work and dedication that the graduates put into their academics finally came to fruition during the presentation of their diplomas. Families were enthusiastic when they heard the names of their loved ones cross the stage who took a moment in the podium to acknowledge the unconditional support rendered to them. Following the presentation of all 2019 graduates, the HSEC Program took the opportunity to present special awards to those who excelled as exemplary graduate students.
The following students were awardees for the SDSU HSEC Class of 2019:
Outstanding Graduate 2019 – Benjamin Chase
Outstanding Graduate 2019 – Jeremy Silverstein
Outstanding Graduate 2019 – Kayli Singer
Outstanding Emergency Management Graduate 2019 –Logan Willman
Outstanding Law Enforcement Graduate 2019 – Saum Poorsaleh
Outstanding Military Graduate 2019 – MAJ Carlos Bustamante
Amy K. Christiansen Diplomacy Security Award – Michael Verrier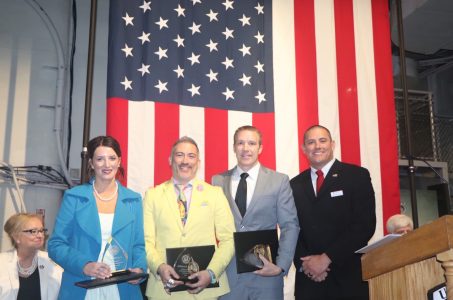 As the ceremony came to its closing remarks, Dr. Larson thanked all friends, families, university personnel, and graduates for attending the 14th SDSU Graduate Program in Homeland Security graduation at the USS Midway. A celebratory Class of 2019 cohort photo concluded this special afternoon, which will be remembered by the graduates as a day that celebrated their academic achievements and a stepping stone into their success to come.