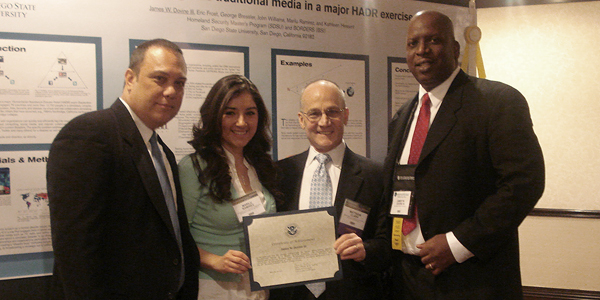 Homeland Security Program students James W. Dovine III, Marilu Ramirez, and John Williams took 3rd place in the DHS Science Conference – Fifth Annual University Network Summit's annual Student Day Poster competition, held March 30 – April 1, 2011. This year's theme was "Catastrophes & Complex Systems: Transportation."
20 teams from major universities all over the U.S., most of them Ph.D. level, participated in the poster competition, with another 24 participating in non-competitive abstract presentation panels. To qualify for both events, hundreds of students submitted one-page abstracts detailing current science being undertaken by their respective teams. Of the hundreds of submissions, only twenty were chosen to present posters. SDSU's team presented on the phenomena of social media with a project titled, "Social Networking Ignites Traditional Media in a major HADR Exercise." The team's Principal Investigator was Dr. Eric Frost, Director of SDSU's groundbreaking Immersive Visualization Center, which actively models and participates in major humanitarian assistance and disaster relief efforts around the globe.
This year's entry marks the first time SDSU has participated in the growing competition. "It was an honor to represent San Diego State University, especially the Homeland Security Program at a DHS conference," said Marilu Ramirez. "It was quite the experience to be among the people who have the power to make a difference. I was very pleased to have won 3rd place. All the team members worked hard on the poster. I hope that opportunities like this continue for the program," she added.
DHS relies heavily on university-based research to generate tools and technologies to keep the U.S. and our allies safe. In this regard, university research and development infuses new ideas, and collaborative models to address current and future challenges. One such idea is Exercise 24 (X24), which formed the basis for much of the research and science utilized in SDSU's poster presentation. X24 was a major Humanitarian Assistance Disaster Relief (HADR) event that engaged 79 countries and more than 12,700 people in a simulated complex emergency of earthquakes, fires, tsunami, and disease via virtual and real collaboration mimicking a real emergency much like others that have occurred. X24's core mission is to introduce new science designed to increase the velocity of the response during humanitarian assistance and disaster relief events by connecting military/civilian organizations, disseminating data freely over the internet (Twitter, Facebook, YouTube, etc.), while providing collaborative tools to expedite the sharing of critical information.
SDSU's poster specifically addressed how to effectively ignite social media for an actual disaster and disaster exercise, as well as to explore the potential use of social media to help identify potential terrorist threats to the U.S. and our interests. "Participating in the DHS Summit has not only been an enlightening and amazing experience but also an honor to be among other great student leaders as a team representing not only SDSU's Homeland Security Program but San Diego State University as well," said John Williams. "To have the opportunity to interact with those who share similar professional interests and care about the safety and security of our country is invaluable. I am pleased with what our science was able to contribute to our nation's homeland security paradigm. Even more, I am encouraged that other Homeland Security Program students have already expressed an interest in continuing what we started."