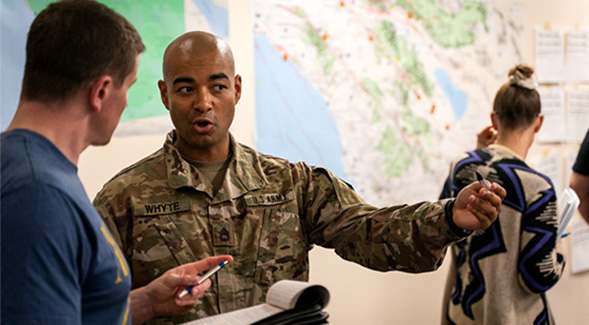 For most students, preparing for disaster is a precaution. In San Diego State University's Graduate Program in Homeland Security, it's the curriculum.

Emergency Preparedness and Response (HSEC 603) exposes students to the rigors and challenges of operating an Emergency Operations Center, or EOC, during times of disaster or major incidents.

This year's class consisted of about 45 students in two sections who were tasked with designing an exercise plan and responding to a 7.3 magnitude earthquake centered in San Diego's densely developed Mission Valley.

In April, as part of this semester's class, students used a room in the basement of Love Library as the EOC. The room is equipped with multiple computers, projection screens and whiteboards the students used to plan and respond to fictional injects, or incidents, that took place over a three-hour period.

Use of the library room was part of a proof-of-concept project to demonstrate the viability of a dedicated EOC space on campus that can also support academic functions.

Student Javier Whyte, an active duty U.S. Army member, played the role of military liaison. "My role as the DOD liaison was to be positioned in the EOC to help communicate requests of support from the EOC." Whyte said. "Requests vary from maritime vessels to aerial assets, with military manpower being the most requested resource in disasters."

Whyte and fellow student Terence Leahy, are also serving as regional duty officers for the American Red Cross of San Diego. About half of the students participated in the drill from the Red Cross' real-life EOC located in Kearny Mesa. Building relationships with organizations such as the Red Cross and the military are consistent themes throughout the Homeland Security Program. The Red Cross has been a tremendous supporter of the HSEC program, and their support in the exercise each year is invaluable.

"The goal of this particular class within the HSEC program is to give students hands-on experience managing and responding to disasters," said Lamine Secka, HSEC adjunct faculty member and SDSU Director of Emergency Management. "Being able to provide this opportunity is a unique experience for the students and is great for emergency managers like me to know that they have worked in the various roles that are required in an EOC."

For each exercise outside experts and mentors are also brought in to help guide the students during the exercise. This year experts from CalOES (the California Governor's Office of Emergency Services), the City of San Diego Office of Homeland Security, and SenseMakers, a private homeland security training company, were all present to help facilitate the exercise.

Other roles played by students included Section Chiefs for Operations, Logistics and Planning sections, public health liaison, law enforcement and fire department liaison, and even animal care and sheltering manager.
Orginal article at https://newscenter.sdsu.edu/sdsu_newscenter/news_story.aspx?sid=77636