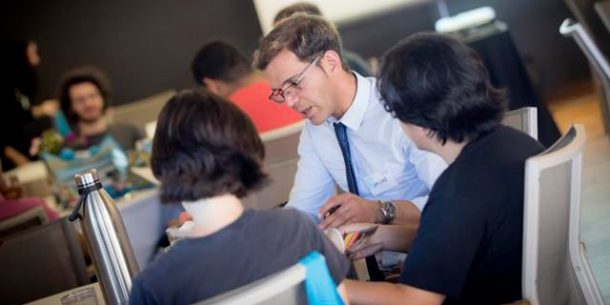 Story By Emily Resnick
Sajjad Naseri plans to graduate from the San Diego State Homeland Security Master's program in just a few months but is already making a huge impact in his community. Five days a week, Naseri works as a contact tracer for the county of San Diego. Naseri's passion about helping society through these difficult times is inspiring, and he strongly feels that "as a U.S. citizen I am obligated to do something, [even] something small counts, everything counts". 
After immigrating from Iran in 2010, Naseri did his undergraduate studies at UCSD. During his second year as a SDSU HSEC student, he had the opportunity to take a unique position and help in his community. Naseri's love for helping people has shined throughout his journey as a COVID-19 case investigator. 
His duty is to contact specific people who have tested positive for COVID-19. Naseri investigates who these people have been in contact with, where they have been, and informs them on the rules they need to follow throughout their isolation. He also provides people with various benefits and compensations such as: possible rental and utility discounts, access to food stamps, Medicare and medical benefits, etc. Most people are unaware of the resources available to them when they test positive for COVID-19, Naseri makes sure the individuals are informed and taking advantage of their options. 
Naseri has around 200 questions to ask the individuals, which for anyone may seem tedious and exhausting in itself, but not for him. When asked his attitude towards his duties, Naseri focused more on his want to be an emotional support and helpful resource to these people rather than an investigator there to interrogate. "I want to make sure that those people who are positive for COVID, [know] they are not alone". He goes above and beyond to help the individuals feel safe and supported. This position is also extremely rewarding and emotional for him, because he is helping people who express great gratitude. Anyone who knows Naseri would not be surprised and would agree this aligns perfectly with his overall character. 
Naseri has exciting plans in place for after graduation. Meanwhile he will be enjoying his last few months in the HSEC program, and continue to live out his dreams, "It was my dream to join the homeland security program".