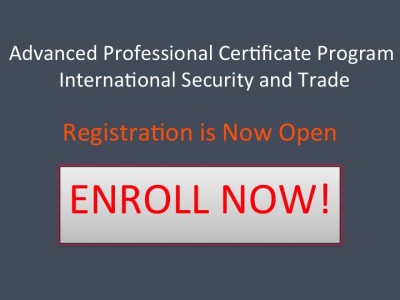 We are proud to announce that the Professional Certificate in International Security and Trade is now open for registration. Classes start June 15, 2015. Click on each of the course to enroll. There are four courses in each Professional Certificate. These courses will run for eight weeks then the next two courses will launch.  Once all four courses are complete you will be given a Professional Certificate in International Security and Trade with an Emphasis on Lines and Flows.
This first certificate in the International Security and Trade program will address the Department of Homeland Security's vision of Lines and Flows: lines as borders and jurisdictions; flows as the movement of people, goods, services, and electrons across these traditional entities. This vision, as championed by DHS Assistant Secretary Alan Bersin, seeks to deal with the future of what customs can be by powerfully linking trade and security as complementary, not competing, processes.
Students will gain an understanding of law enforcement concerns and trends, the impact of natural disasters, and the role of Critical Infrastructure and Key Resources (including public/private partnerships). They will also get a view of the entire system from the Mexican government and business perspective. The intent is to help students take a leadership role in benefiting from the enormous changes in global trade, identity of borders, nature of trade, use of technology and global agreements; and to seek opportunities for excellence and service to the nation through this new paradigm of lines and flows.
Course Descriptions (click on the class to enroll)
This is an introduction to linking global trade and security as complementary activities, especially at the U.S.-Mexico border. By integrating technology, sensors, computing, and government regulations to a common goal, this class will focus on the big picture of global international trade optimization. The primary vision will be that of lines and flows as articulated by Alan Bersin in his efforts to invigorate borders and customs officers globally. This class will provide an overview of global trends and opportunities in the government and private sectors.
This class will provide an overview of law enforcement training and planning needed to fulfill unique missions surrounding trade and security in a world of asymmetric threats and globalization. The focus is on collaboration, information sharing, intelligence, and threat analysis in public and private sectors. Means of law enforcement collaboration both within the U.S. and with other countries will be discussed as a linkage of trade and security. The lines and flows concept also applies to international law enforcement and the appropriate and secure means of collaborating, utilizing information and intelligence, and taking action.