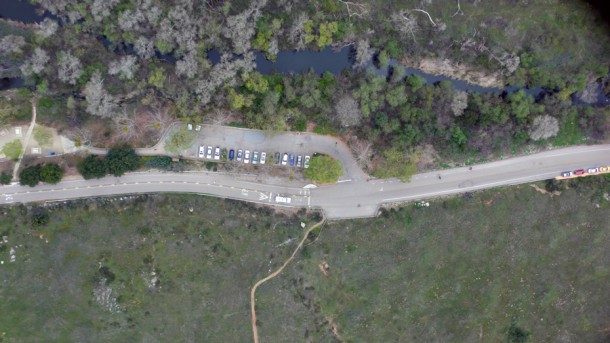 During the past 18 months, SDSU's VizCenter UAV Project in conjunction with its technology partner, RP FlightSystems has been deploying to assess various payloads for invasive species monitoring, trail assessment, and reforestation projects following the Cedar Fire.
Through the partnership of RP FlightSystems and the San Diego State University VizCenter UAV Project, teams have conducted numerous operations at Mission Trails Regional Park. These operations have provided imagery of historical sites, assessment for public safety issues and documented projects along the San Diego River as examples.
The imagery acquired from some of the operations has been used in reports to the State-level as well as to demonstrate achievements with other funded rehabilitation and improvement projects.
The service is provided free of charge to Mission Trails to assist in maintaining the history of the park and improving public access and safety.
Research Areas Include
Trail Monitoring
Imagery acquired to assess the erosion channels through a popular mountain bike trail area.
Kumeyaay Lake
Continuing efforts are underway to obtain regular imagery to track the growth and spread of invasive plant species in and around the lake.
Historical
Imagery acquired of historical sites within the park. The imagery from these flights has been used for various educational purposes.
Safety Assessments
Imagery acquired to assess safety of parking lots in the park.
Re-Vegetation
Imagery acquired to create the base layer to assess re-vegetation projects at the park following the devastation of recent wildfires.
Multi-Spectral Imaging
The imagery efforts at MTRP are now supported by the collaboration of Tetracam with RPFS and the SDSU VizLab.