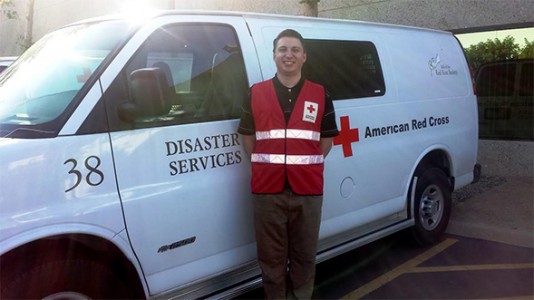 The American Red Cross logo serves as an international sign of hope.
When people are in trouble, seeking refuge and without basic resources, they often call to enlist the services provided by Red Cross. Its mission statement includes preventing and alleviating human suffering in the face of emergency disasters.
The Red Cross is responsible for providing disaster relief all across the globe, and as a nonprofit organization, it depends on the help of selfless volunteers. When the San Diego and Imperial Valley chapter needed some additional volunteer expertise, they reached out to San Diego State University's homeland security master's program.
"The Red Cross mentioned they were searching for people who've had specific types of training," said Lance Larson, assistant director of SDSU's graduate program in homeland security. "It's difficult to find individuals who are exposed to liability and know how to deal with traumatic situations in an effective way. They were looking for people with emergency management and homeland security experience, so the choice was obvious. "
Help is on the way
From fires to floods to earthquakes and more, the volunteers serve as an "off-the-clock" support system for those in need.
SDSU's graduate program is made up of a diverse group of students, including law enforcement personnel, the intelligence community, veterans and firefighters. With guidance from the Red Cross team, the SDSU students train to be disaster duty officers or disaster action team members.
Disaster duty officers serve as dispatchers when an emergency occurs. They make decisions based on the severity of the situation, decide what resources the victims might need and mobilize an on-call team to assist the victims. Disaster action team members then visit the site and provide immediate resources to the victims.
When the disaster action team arrives at the scene, they bring clothes, food, water, clothes and additional resources the victims may need. They organize shelter and provide monetary and social support, and they help victims find ongoing support from specialists like therapists and insurance advisors.
Currently, nine students are a part of the program. Due to the success of the initial semester, the partnership is expanding. The incoming class of the homeland security program, which consists of 42 students, will be offered enrollment in the field research experience course.
"We rely so heavily on volunteers at the Red Cross," said Susy Turnbull, Regional Disaster Officer for the Red Cross in San Diego. "And having great partners and collaborators like SDSU only helps enhance our capabilities for disaster response. With the expertise of the Homeland Security students, we simply get the right volunteers into the right positions to make our community better equipped to rebound faster from a major emergency."
Boots on the ground
SDSU students value the on-the-job training that working with the Red Cross provides.
"I took my first dispatch call individually, but not alone," said Mike Verrier, a student in the program. "I had my training, a step-by-step handbook and a dedicated support line to help me through the process. I called my support to verify the steps as I proceeded, and within 15 minutes, I had opened a new case, mobilized a team of three volunteers, and begun to monitor their dispatch to the scene of a family affected by a home fire in El Centro. In the end, this family received financial assistance for basic needs, a hotel and a contact to call in the event of personal distress. I closed the case, and ended my shift that day feeling accomplished for assisting a family in their time of need."
The responsibility of managing a crisis for a family in need may seem a bit daunting. But classroom learning, combined with the practical Red Cross experience, prepares these volunteers to succeed.
"It's a big responsibility — you're the leader," Larson said. "You're not only putting yourself in a potentially dangerous situation, but also managing the safety of the family and fellow volunteers. You are helping others recover from potentially the worst time in their entire lives, which can be a very rewarding experience."
A win-win-win
SDSU students don't just gain experience and course credit for participating in the collaboration. The overwhelming majority enjoy helping the community and making a difference.
"My initial thought was that I wanted to go into emergency response or emergency management after graduation, so I thought this would be a great opportunity to get my foot in the door," said Dave Maloney, a student and retired captain in the U.S. Navy. "But being able to help people has been so rewarding."
Maloney finished his training this summer and is looking forward to starting his role as a disaster duty officer this fall.
"Once regular business hours are over, we're on duty," he said. "We're running on generosity and we're happy to help."
Article Located at: http://newscenter.sdsu.edu/sdsu_newscenter/news_story.aspx?sid=75652