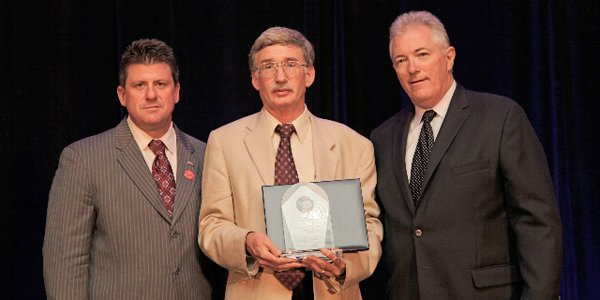 When it comes to cybersecurity, one San Diego State professor is at the forefront of the field.
Eric Frost, SDSU geology professor and director of the Viz Lab, received a lifetime achievement award for his efforts and accomplishments in the field of cybersecurity at the first annual Cybersecurity Awards, hosted by Securing Our eCity.
Extraordinary honor
The Oct. 7 ceremony recognized key organizations and individuals for their contributions to the world of cybersecurity. For Frost, the award was an extraordinary honor.
"I was deeply humbled by the recognition from the community. Thinking about cybersecurity in difficult settings is something we work on every day, so being recognized in such a way was very meaningful."
Frost and the entire Viz Lab constantly are highly involved in humanitarian disaster relief. Since their efforts involve using the internet in a positive way, cybersecurity is of the utmost importance.
"Given our homeland security effort here in humanitarian disaster relief, we end up dealing with cybersecurity in a major way."
The next generation
What touched Frost the most during the ceremony was his pride in seeing what former students have gone on to accomplish in the cybersecurity community.
"One of the greatest joys for a teacher is being surpassed by their students. There was a whole group of my students in the audience who have gone on to do extraordinary things."
Building relationships
Frost also pointed out that cybersecurity accomplishments are in line with SDSU's role as an engaged university in the community and the world. The university was recognized for these efforts during the ceremony as it was announced as one of ten finalists nominated for the Cyber Security Education award.
Building these successes on and off campus comes down to one thing, according to Frost.
"Security is really based on relationships, not technology. We work in countries all around the world, and each country is a whole different group of people. Those relationships are the same in the cybersecurity community. We're just adding technology on top of those relationships. Cybersecurity is just a trusted network of relationships and you make technology mimic that.
About Securing Our eCity
Started in 2008, Securing Our eCity is an initiative focused on fostering public / private partnerships at local, state, national and international levels and helping to create a cybersecure community. Stakeholders, including consumer advocates, business owners, and governmental agencies have come together to raise awareness, offer education and help individuals and businesses prepare for cybersecurity challenges now and in the future.